Con el nuevo modelo de IBM de "traiga su propio cliente", el objetivo es que IBM Domino pueda soportar la conectividad desde distintos tipos de clientes, además de IBM Notes, para que el usuario pueda decidir cuál le interesa más utilizar.

Desde hoy está disponible el acceso a IBM Domino para Outlook 2013 : IBM mail support for Microsoft Outlook, V2.0 expands mail client options for IBM Notes and IBM Domino. Este acceso permite utilizar como cliente de IBM Domino a Outlook 2013.



IBM mail support for Microsoft Outlook enables you to connect a Microsoft Outlook client to a Domino V9.0.1 Server. As a Domino V9.0.1 user, you can download IBM mail support for Microsoft Outlook at no charge from Passport Advantage®.
IBM mail support for Microsoft Outlook, V2.0:

Supports a "bring your own client" model. Preserves the value of business-critical applications, while having the option to choose an email client that works best for you.
Leverages strength of the Domino back end. Enables you to connect a Microsoft Outlook 2013 client to a Domino V9.0.1 Server and gain all of the advantages of Domino.
Provides social integration capabilities. Provides the capability to utilize the "free" plug-ins for exposing the IBM Connections™ Files and Profiles services natively within the Outlook client experience.
Provides capability to use the native mobile applications for Mail, C&S and Contacts (Verse Mobile) and the social content (Connections Mobile).


System requirements
Microsoft Outlook 2013 32-bit or Microsoft Office 32-bit with Service Pack 1 and the Office 2013 cumulative update for April 2014.
A Microsoft Windows release supported by Outlook 2013.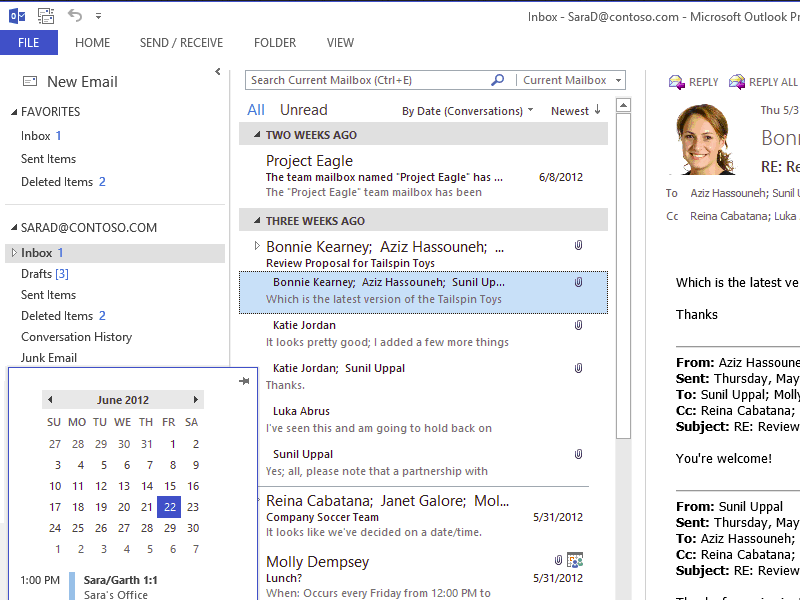 Importante
destacar que esta funcionalidad no tiene nada que ver con la antigua opción
DAMO
, que hay que reconocer que no funcionaba todo lo correctamente que cabía esperar. Ahora la integración entre Outlook y Domino está basada en un
IBM mail server add-on IMSA
instalable en IBM Domino que permite a Outlook comunicarse con el servidor mediante
Exchange ActiveSync (EAS).
(Este último punto puede haber sido modificado y con el anuncio oficial podremos confirmar si es este u otro protocolo el utilizado ).
Para después del verano la siguiente opción de cliente de que se va a disponer on-prem es
IBM Verse
, un nuevo interfaz web totalmente renovado y más moderno que a buen seguro será la opción de cliente más interesante para más de uno.