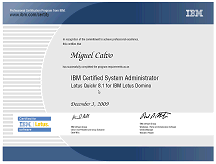 Upgrading Lotus certifications is a yearly process I've been involved for the last 10 years.

Some years ago after getting certified, you received through your local postal company a big nice envelope with the certificate, a pin, some more documents and even an ID that I used to consider a funny collector's object. :-)

Last week I upgraded one of my certifications and I received a nice PDF certificate but, isn't it Mike Rhodin's signature what is written in it ?






IBM, is time to upgrade certificate signers. I guess Bob Picciano could be a nice candidate to be included in them.

Even replacing the word "Workplace", could also be a good idea from my very personal point of view.