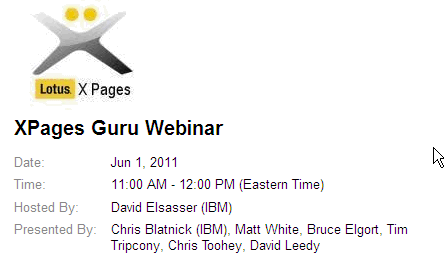 Con participación de algunos de los gurúes de XPages, este evento, organizado por IBM, pretende mostrar, experiencias y claves del desarrollo con XPages.

El contenido no es exclusivamente técnico, sino que contendrá aspectos arquitectónicos y de fundamento de la tecnología XPages, para mostrar a directores de tecnología el futuro del desarrollo en plataforma Lotus Domino.



XPages is an exciting Web 2.0 rapid development environment based around JSF and Java technology running on the IBM Lotus Notes and Domino platform. IBM Lotus Notes and Domino has been an established platform for developing applications where customers have been able to utilize industry leading security and workflow capabilities for business applications. XPages extends these capabilities further by providing a full modern web development platform.